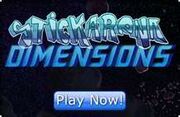 The newly updated game to "Stick Arena: Ballistick", where the screen is much wider and bigger, also easier to spot any upcoming enemies. This replaced Stick Arena Ballistick on June 2, 2012.
The lobby was customized too, with a new look. When you click a player, it will now show their rank other then knowing how many kills they have in order of knowing their rank.The game has a more dull color to the graphics, and the "Log-In" page starts with the usual beginning of "Stick Arena: Ballistick". But fades away after and shows deep space.
Ad blocker interference detected!
Wikia is a free-to-use site that makes money from advertising. We have a modified experience for viewers using ad blockers

Wikia is not accessible if you've made further modifications. Remove the custom ad blocker rule(s) and the page will load as expected.