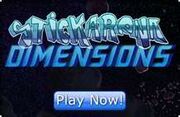 Stick Arena: Dimensions
is the most recent version of the game. It replaced Stick Arena: Ballistick on June 2, 2012. Dimensions has a higher screen resolution, which makes it easier to spot upcoming enemies.
The lobby was customized with a new look as well. When you click a player name it will now display their rank.The game has a more muted color scheme and the Log-In page starts with the usual intro similar to Stick Arena: Ballistick. But, it then fades away and shows deep space.
Fandom Wiki: https://stickarena.wikia.com/